ecommerce Website Design solutions
Increase your online presence with our eCommerce site design service. With a focus on customer experience, we ensure that you provide the best possible shopping experiences for both new arrivals and returning clients!
Ecommerce website designs
Ecommerce website designs
Increase your online presence with our eCommerce site design service. With a focus on customer participation, we ensure that you provide the best possible shopping experiences for both new arrivals and returning clients! All you need are the right tools, included in your online store that can open up opportunities like never seen before!
The process we use for creating your online store is the same whether you have 1 or 10,000 products.
We work with you and your team to understand your products and how best to display them to your potential buyers. Understanding that the product fits into certain markets or needs to give options for colours and sizes that alter the prices of your product is critical within the setup of the system backend.
Some FAQs About eCommerce Website Design
How do you design eCommerce websites?
Want to design your own eCommerce website? Edition1 has the tools for you! With their pre-designed themes or customizable options, they'll help turn those sketches into reality.
If you want your online store to stand out, check the top eCommerce website designs. These sites have been thoughtfully crafted with specific elements in mind and can help guide yours towards success!
How much does it cost to use Edition1 for your eCommerce business?
edition1 offers many different pricing options for our clients. The cost of using Edition1 will depend on the features that you require and any other services we offer as part of your bundle package, but there's no such thing in this industry! We're always working hard to provide excellent service at every turn – so rest assured knowing it'll be worth every penny spent with us.
What is the Most Important Element of eCommerce Website Design?
The greatest factor in eCommerce website designs that sells products online is photography. Photos play a big role in any site trying its best on selling goods, and you don't need fancy gear or know-how either! We find products that are not cluttered and large enough to allow the buyer to zoom into the image work best.
So your online store is now available to find online and you are starting to see some benefits but what else can you do now? For more people to see your website, we can help with: Pay-Per-Click Ads ( PPC ) Our paid advertising campaigns will drive targeted traffic and increase revenue by targeting the right audience through Google's AdWords platform. With our experienced team of experts managing this process from start – to finish you're guaranteed success! We also offer search engine SEO services.
What do you supply with Ecommerce Website Design?
A custom eCommerce website can include any function you like, and we'll help you choose if you're not sure what you need. Here's an example of just some of the features you can have in your online shop:
Fully responsive, eCommerce design so your product looks amazing on all devices

Reports for: Products, Orders, and Customers

Merchant Payment integration (i.e. with Stripe, PayPal or WorldPay)

Product Reviews (fully editable)

Quick edit to prices

Related Products/Cross-Selling

Auto-resizing product images save you time to compress them manually

News area to make announcements of discounts and new Products

Discount vouchers based on a percentage of basket or per item

Products on Sales with eye attracting listing

Upsell Products at the checkout area

Variations for product sizes between small/medium and large etc

Abandoned cart reminders and follow-up emails to notify shoppers.

Bulk buy discounts option for trade accounts

Customer Registration/My Account/Order History and Buy Only functions

Shipping Charges based on Weight and Locations

Social media integration for digital marketing

Stock management control – allows users to opt in to receive notifications when the product is back in stock

Facebook, eBay, and Amazon integration to show products on 3rd party platforms

Above are just some of the Unlimited functions available.
Finishing up with our ecommerce website designer review
Once we have your user friendly eCommerce shop online we need to know how our visitors interact with our store. We can use Google Analytics to track visitor conversion and see exactly what products sell best.
It's no good having a great website if the user experience detracts from sales and you never convert them into direct customers who will keep coming back to you.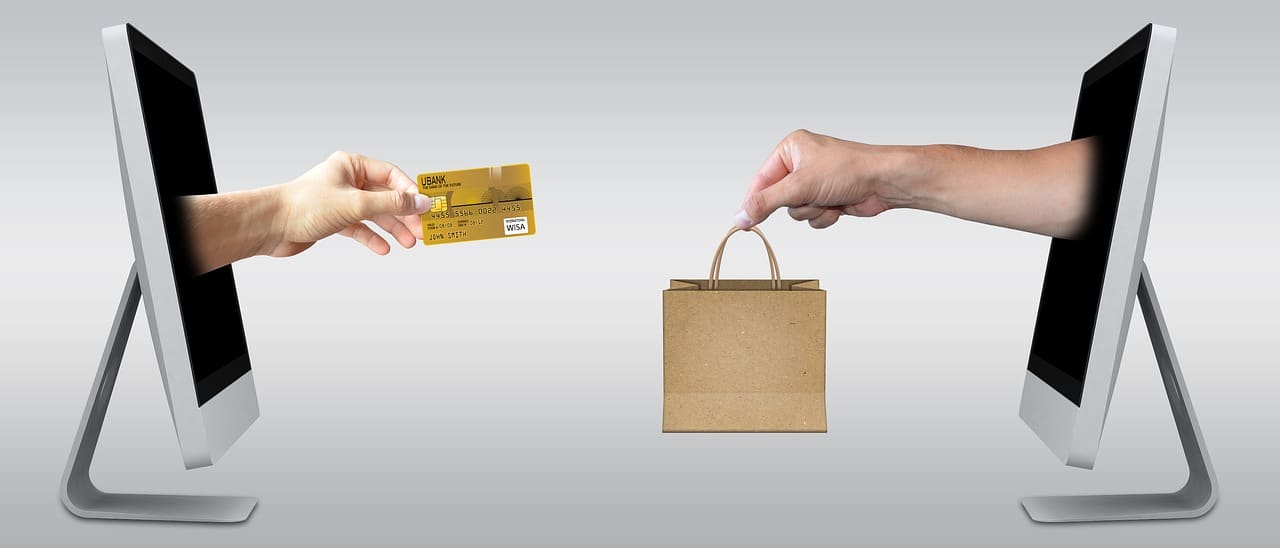 What makes a great eCommerce website design?
People can see your website based on your product or service. Studies show it takes 50 milliseconds to determine whether the user stays with the site. It is only a matter of.05 seconds that an eCommerce company should impress users.
Planning & Conceptualisation
This phase begins with the idea. Explore various design choices to suit the needs of the company. This stage involves looking at the best possible way to display your product.
Code, Design & Content Creation
During this stage, the eCommerce website development is primarily concerned with the transmission of information clearly and effectively. Copywriting & design play the largest role in this phase. Website design can be adjusted to blend with your brand.
We'll handle everything, starting with brand development through to eCommerce web development and implementation. Providing you with the information needed to ensure delivery on time.
Design Differences Between B2C and B2B Ecommerce Sites
When designing high-performing websites, one needs to know how to attract your target audience. The same goals are met in eCommerce sites for businesses to sell. The method for reaching this objective however is slightly different. Tell me the meaning of that, in terms of design.
Looking for a creative and engaging ecommerce website design? Look no further than the experienced professionals at Edition1. We specialise in designing custom ecommerce websites that are not only eye-catching and easy to use, but are also search engine optimised to help you attract more customers.
Our ecommerce solutions are tailored to fit the specific needs of your business, and our team will work closely with you throughout the design process to ensure that your vision is realized. So whether you're selling products, services, or both, we can create an ecommerce solution that fits your needs. Our ecommerce designers will create you an amazing and fully functioning online shopping website.
Best of all, our affordable ecommerce web design packages make it easy to get started without breaking the bank. So contact us today to learn more about how we can help you take your business to the next level. Display your product