By now we all know that Google reviews help our Google rankings within local and even national searches. Google says it uses reviews as one of the top factors when displaying results.
So for that reason, we need to make the process of leaving a review as easy as possible for our customers. We have all been at a business location to then find later that day our phone has asked us to review that same location. What if our customers do not physically visit a location? How do we get a review from them? As like it or not, people trust reviews. Think about it this way – if you're faced with a Local search result and two of the businesses have 2-star ratings while the third has 5-star ones, you are much more likely to click on the 5 start option.
You could email them asking for a Google review, but how do they know how and where to do this?
Maybe you email them a set of instructions with the wild hope that they manage to understand them. Let's say half of them have the time to figure the instructions out and persevere to leave you a review. You have missed out on the other reviews from people who could not understand how to complete the steps you sent them, these customers might have wanted to leave you a glowing review.
Example of instructions you might send
To action:
On your computer, open Google Maps and make sure you're signed in.
Search for a place.
On the left, scroll down and click Write a review.
In the window that appears, click the stars to score the place. You can also write a review.
So what else can we do?
Edition1 can supply a unique link that you just email the client and so long as they are logged into Google when they click the link they are taken directly to the review area without the need to complete all the previous steps in your instructions. This link is also tracked so you know how many clicks you are getting for Analysis purposes. So like your phone asking you to review a location, you are now guaranteed more reviews.
Example of results from the link you emailed the customer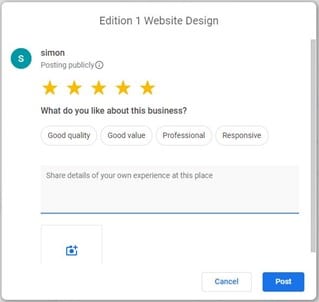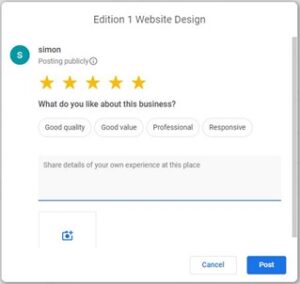 So you now have several reviews showing in your Google places business and you are starting to beat the competition in the results.
But what else can we do and what about your website natural ranking?
We have thought about this and have a solution. By showing your reviews on your website we are telling Google that our content is being updated constantly and that we are trusted by our customers. We do this by displaying the Google reviews on our website in a slider style layout that is aesthetically pleasing to read by our visitors and also adds to the website content for Google to read.
As having new content can even help our natural ranking as the client unintentionally describes our products and service to Google while they leave the review.
So in short:
Google reviews inform your customers that you are trusted. If you search for a service and the results display three options you would probably choose the most reviewed with the best score.
Having the review show on our website and using this correctly we are informing Google that we are trusted and our content changes with each new review.