What is the purpose of the website?
Our client approached Edition1 after he conceived the idea for the site after talking to expat friends who were living in Europe. He was shocked to hear British products were hard to come by in many countries and very expensive. Also saddened to hear that during the recent Covid-19 crisis, certain groups of people were having difficulty getting to the supermarket to buy basic goods. So they decided to do something about this and set up the business.
The aim is to supply classic British goods at competitive prices. By Buying fresh stock each week and ensuring the highest quality of goods. Also taking care to package orders securely and send in a timely manner.
What were the technical requirements, what the website requires to do functionally?
We needed people to be able to find what they wanted easily and quickly so created a product search function to find items quickly within the relevant product category.
The product categories were created to display a table/list of products so they can be quickly added into the cart.

Shipping products around the world comes with associated costs and we had to be sure to pass the cost to the buyer by applying rates to the order. Different weights and locations had different charges, so we needed to display this data to the buyer before they checkout.
The website user should also not be allowed to checkout if the weight of the cart is over 20KG. Due to the cost to ship above this weight being too costly.
Payment must be quick and easy.
How did we go about creating this? Using a solution built on WooCommerce, but what is woocommerce?
WooCommerce is now over 10 years old? so has a strong support system and huge ecosystem of code to create almost any online commerce solution you can imagine. If you need the system to send marketing material with follow up emails, or generate invoices via a PDF then we have a setup that will work for you.
WooCommerce runs on WordPress which currently accounts for 40 percent of websites on the internet.
Just a few of the custom areas created to make the website perform to give a better user experience:
Each product is assigned a weight measured in Grams this weight gets calculated as more products are added to the cart. These weights are constantly displayed in an easy to view area
on the website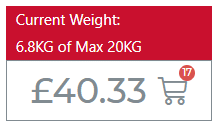 If you try to checkout with an overweight basket a message is displayed with the option to remove item from your shopping basket

Card Payments are taken using Stripe that allow you to store card details securely. Stripe takes less than an hour to setup and starts taking payments using all major card. Stripe also has some of the lowest charges per transaction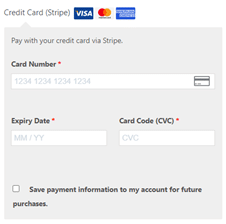 This new website is now live and ready to use at www.britishfoodstore.co.uk
All our websites come pre-installed with a firewall from Wordfence to protect from and hacker trying to attack your website and Google Analytics site kit to keep you informed of website performance in search engines.