Edition1 were approached by MDHP who are a local business in Stonehouse that specialises in Civil and Structural designs. MDHP needed an update to an existing website that was using frames that were popular in the '90s.
The website looked outdated and the information old and hard to make changes and updates.
Edition1 installed a Content Management System (CMS) package to allow MDHP to make alterations to the website quickly and easily using WordPress and a page builder. The page builder allows anybody without technical know-how to log in and make alterations and additions to the website.
The website has some great options included to make it fast to load to help SEO rankings in Google.
Let's look at some of the additional plugins installed and what they can do for your website.
WP Rocket
If you have been looking for a way to make your WordPress site faster and more user-friendly, but you don't want to spend hours trying to figure it out. Well, look no further because WP Rocket compresses and caches files so they load more quickly. It also speeds up your site's loading by analysing HTML, CSS, and JavaScript files to minify them.
To "minify" means to remove all the blank or white space between characters that are only needed for a person to be able to read a document so they can see where the information stops and starts. A computer does not need to see this blank white space so we minify the CSS files to remove this redundant data.
WP Rocket is the most powerful caching plugin in the world. It can be used by anyone with any level of technical knowledge – all you have to do is install it on your website and let us take care of the rest. No coding required!
We know that speed matters when it comes to running an online business so you can be sure that WP Rocket will make your website lightning-fast from day one. Website owners love how easy the plugin makes their lives and they rave about how much better their sites run after installing WP Rocket.
Imagify is a free, open-source tool that reduces the file size of images and generates a Webp format that is also compressed better than PNG or JPG. It does this by removing unnecessary data from your image files to make them smaller without sacrificing quality.
Now let's see the results of completing and setting up the two plugins.
Below are two images showing a speed test using GTMetrix, this tool looks at a website and scores it based on the overall performance of the website and its loading speed.
This overall score is made up of lots of smaller areas like image sizes and your websites cache policy etc. As we are using a setup that out of the box has a loading speed below the recommended 3 seconds we were able to get an amazing result with a fully loaded time of 1.4 seconds. We could go on and use a CDN like Cloudflare to further boost our loading speed.
Before optimisation results are shown in the image below.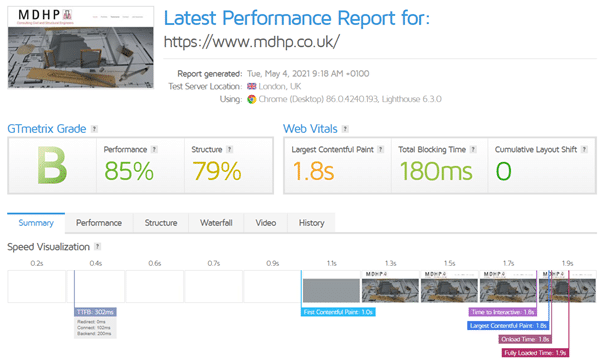 We enabled our tools to speed up the loading and optimise the images to get the results below for our client's shiny new website.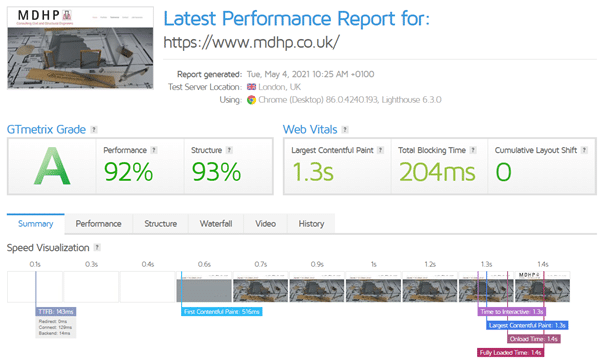 Simply speaking this means the website is Google Friendly and is fast for users entering the website. Let us know your website details and we will run you a full analysis.